Carrie Konyha 
Psychic, Soul Guide, Trauma Informed Shamanic Therapist, Transformation Coach & Yoga Instructor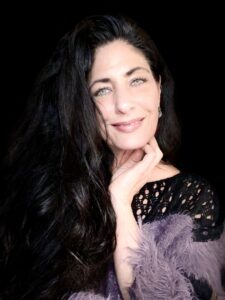 35+ years of experience as a professional psychic reader, soul guide, trauma informed therapeutic shamanic healing practitioner, rapid transformation and relationship coach.  Carrie is also a certified yoga instructor (E-RTY200) and certified 'Yoga Alliance Continuing Education Provider' (YACEP) with an Associates degree in Metaphysical Arts and Sciences through the College of Metaphysical Studies in Clearwater, FL
"Being born gifted with the ability to naturally sense & experience the world of energy & spirit, my dedication to my path of awakening began as a young child. I have studied with many master spiritual teachers throughout my life, spanning many spiritual philosophies and traditions including the teachings of Don Miguel Ruiz, Deepak Chopra, Paramahansa Yogananda, Greg Braden, Ted Andrews, Hamza Yusuf, Ihsan Torabi and many others.  I have decades of specialized training in the areas of spiritual development, intuitive development, meditation, shamanic healing therapies & yogic philosophy. I bring a lifetime of personal experience as a spiritual adventurer & a wellspring of universal spiritual teachings to each session I facilitate".
Having served as a core practitioner and personal growth retreat facilitator for both of Sedona's premier Spiritual Retreat companies, 'SpiritQuest' and 'Sedona Soul Adventures' from 2007-2020 while maintaining her own practice as shamanic healing arts practitioner, Carrie is widely recognized globally as a deeply insightful, compassionate and empowering soul guide.
"My life path is connected to empowering others to embody their fully healed, fully awakened, pure soul essence & life path potential. I leverage my spiritual gifts & heart wisdom to facilitate empowered transformation & to activate the awakening of consciousness in those who are guided to connect with me".
PSYCHIC INSIGHT,  SOUL GUIDANCE, SHAMANIC HEALING 
"Im a natural born extra sensory who has have doing psychic readings and soul centered life coaching professionally since 1986. I receive psychic insight in the form of inward images, senses, sounds, sensations and  awarenesses.
I have always been this way and have no ideas what it would be like to not have these extrasensory sensitivities.  Ive done literately many thousands of psychic readings over the past 35 years or so and have become an expert in reading peoples energy fields. I  provide psychic insight & spiritual guidance to my clients based on what I see in their energy field and thru that which is transmits to me from the etheric realms of divine presence.
I also read tarot cards & use tools such as astrology, numerology and dream work. I specialize in teaching tools and practices for inner development and the awakening of consciousness.
Sessions with me are available globally via Video Chat or in person for visitors to Sedona, AZ. For more info on psychic readings with me, see the "session offerings' page. To make appointments, see the appointments page.
Having a strong interest in metaphysical education & spiritual development, I have studied with many leading transformational & spiritual wisdom teachers over the past 40 years. I spent much of my early career learning, experimenting, researching & developing the curriculum's for my psychic/spiritual development and healing tools training programs that I have now been teaching since 1996. Many of my early students have gone on to become professional psychics and healing arts practitioners themselves.
"Coming from an extensive background in yoga & dance, I also specialize in teaching yogic philosophies for awakened living & yoga/dance movement practices as a holistic medium for spiritual path-working, trauma healing, and soul empowerment"
I am available for one on one and group session in person in Sedona, AZ, USA  and via video chat Globally. Live Streaming and on-demand video workshops and courses are currently taking the place of destinations gatherings due to COVID restrictions however, I love traveling to teach so reach out to chat about me participating in your event  Contact Carrie