Come to one of my group retreats or create your own customised experience. Your experience can range from an individual 2 hour session to a half-day,  full-day or weekend program. Session rates for private retreats start at $120/hr per person . Small group rates start at $120/hr for the first person & $75/hr per each additional person with additional discounts offered for multiple hours booked.  Sessions & courses can be selected  'a la carte". <customised retreat options>
---
Upcoming Group Retreats
The Alchemy of Awakening
March 16-18
Lotus Studio, Sedona, AZ
Friday 5-8p, Sat 10-4, 6-8 and Sun 10a-2p
Advance Registration Required $225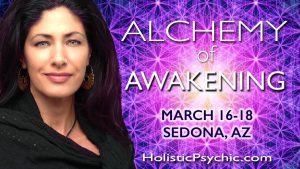 Are you ready for the next step?
Shift into your most brilliant self as an awakened being of light thru the 'Alchemy of Spiritual Awakening' process.
Gain tools and learn modalities to support energy clearing, healing, light activation,
spiritual path-working & empowerment
This weekend immersive experience with me in Sedona, AZ guides participants thru my 'Alchemy of Spiritual Awakening' process designed to give you all the essential tools, practices and modalities needed to facilitate a lasting shift into the embodiment of higher spiritual energies, expanded awareness, increased fulfillment, personal empowerment & holistic wellbeing.
This is what you have been looking for!
* Discover the 4 spheres of spiritual awakening and step by step processes for align them with the 4 branches of Spiritual path-working to support your journey thru awakening to empowered embodiment
* Expand your intuitive intelligence field, activate extrasensory awareness & gain skills in discerning subtle energy.
* Experience deep clearing, healing, empowerment & embodiment thru guided Shamanic Journey work
* Design your own customized spiritual practice program to support your inner journey, soul purpose and life path .
This weekend retreat is held at Lotus Studio in W. Sedona.
Price does not include meals or lodging.
---
www.HolisticPsychic.com  *  carrie@holisticpsychic.com * 480.748.1671